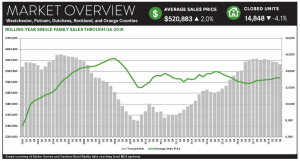 As we saw in 2018, the challenge with low inventory of homes on the market was evident.  This challenge remains as we kick into 2019.  Buyers are waiting on the sidelines for new inventory to be introduced; and if the property is priced correctly, buyers can be prepared for that property to sell quickly and/or receive multiple offers.  If you think the house checks most of your boxes, don't wait – call your Realtor to schedule an appointment to see it immediately.  As noted in a recent market report provided by BHG Rand Realty, "Going forward, we believe that the market is still poised for growth. Sales are falling mostly due to a lack of supply, not a lack of demand. Essentially, the market needs more "fuel for the fire" – more viable inventory for the buyers who are looking. And that might be happening: regional single‑family home inventory was up almost 10% from last year, rising for the second quarter in a row after 25 straight quarters of year‑on‑year declines. This makes some economic sense, of course, since we would expect that sustained price appreciation over a period of time should tempt more homeowners into the market. The question is whether buyer demand is strong enough to continue driving price appreciation, even while absorbing this increased inventory. Ultimately, we believe that the region is still growing as a seller's market, which should allow for both increases in sales and prices in what will be a robust spring market."
Are you thinking about selling and curious to hear what your home may be worth in today's market?  Contact me so we can chat.
From the day that your house goes on the market to the day it closes, your property needs to be in "Selling Shape". You and your family will have to cope with some inconveniences and make the transition to thinking about your house as a property and not a home. This can be frustrating if you're still living in your house, but the effort is well worth it.
"…make the transition to thinking about your house as a property and not a home."
Home staging is designed to market and sell your home in a way that's appealing to the largest buyer audience possible. Staging uses simple design principles, and may radically alter the way that your home is arranged and decorated.
Part of my expertise is in helping sellers get their home ready for the market. I'd be happy to stop by and share some thoughts with you on how you can stage your home to obtain top dollar.
Please feel free to call or email if I can help you further.
Posted on February 4, 2019 at 6:28 pm
Kimberly Starks
Posted in
Real Estate Tips
Preparing Your Home for a Sale
When you have decided that the time is right to sell, the first step in preparing for the sale of a home is finding out its worth. This can be done by contacting a real estate agent for a comparative market analysis, an informal estimate of value based on the recent selling price of similar neighborhood properties. A certified appraiser can also provide an initial appraisal of your home.
Once the value of the home has been determined, a seller should concentrate on the home's appearance. Working to ensure your home is in the best condition possible for showing to prospective buyers will position you to receive top dollar. This includes repairing or improving any trouble spots that could deter a buyer, such as squeaky doors, a leaky roof, dirty carpet and walls, and broken windows.
The first impression that potential buyers form of your property as they drive or walk up should not be underestimated. The "curb appeal" of your home is extremely important. You can create a positive first impression by making sure the lawn is pristine – the grass cut, debris removed, garden beds free of weeds, and hedges trimmed.
However, the trick is not to overspend on pre-sale repairs and fix-ups. This is especially important if there are few homes on the market but many buyers competing for them. On the other hand, making such repairs may be the key to selling your home in a down market.
Call a local Realtor to schedule a time for them to visit with you and take a look at your home.  Not only will they assist in determining what the value may be in today's market, they can also advise what should projects should be tackled in order to make the house more desirable to prospective purchasers.